Web Development
Page Construction, Inc. ~ 2016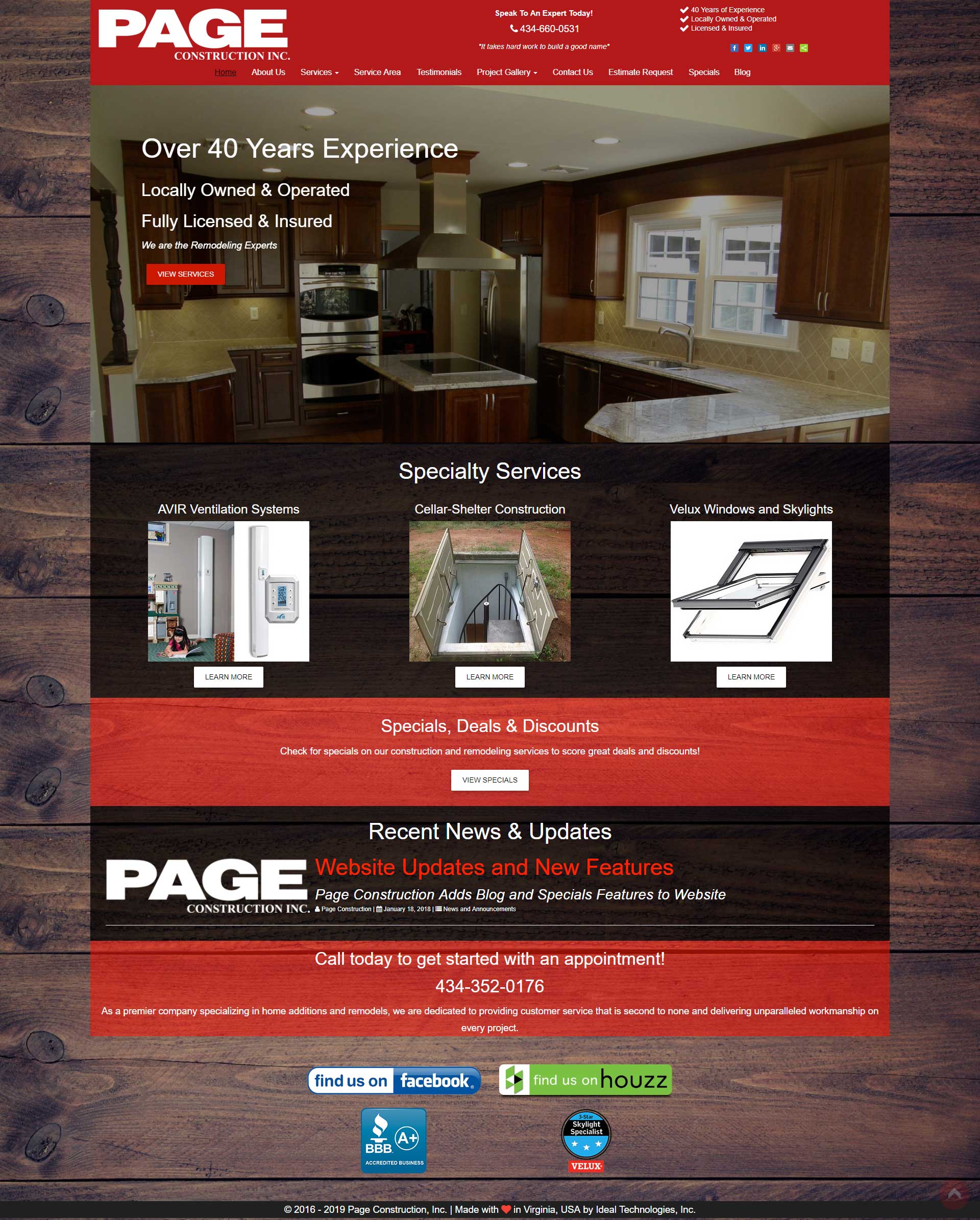 In 2016 I was approached by Page Construction of Appomattox, VA to help them in their website problems. They had previously contracted another big name developer to create their website, had spent large amounts of money on the website development, but after over a year their website still had not been completed, was missing information, and when they called to get progress reports on their project they could never reach the same person or get any information on their website completion progress. After months of frustration trying to get a project completed which they had already payed for, they contacted me.
They liked the overall design of the site that was created by the previous developer, and asked if I could take that design, make a few modifications and then add the information that they needed. I told them that it was no problem and gave them ideas for other features that could be added, and work on the project began.
I designed this website using the bootstrap responsive framework on top of .Net with C# and MS SQL support for the added features I had recommended, which included an estimate request system, client testimonial submission system and a project gallery to feature the previous projects of the company. Later in the end of 2017 I added a custom blog platform.
Pages created for this website included the home page with a large sliding header with various calls to action, a specialties call out and blog post feature and contact call to action. The about page, with information about the company and its history, the services pages, with descriptions of the services provided, the service areas page with all of the geographical locations in which the company serves, a testimonials page with reviews from previous clients and a form which clients could submit a review for approval, a projects gallery section allowing for the creation of project profiles for previously completed jobs, an estimate request page where potential clients could submit their project for a preliminary quote, a specials page where the business could post specials for their services and then the contact page.
I created a custom administrative dashboard for this website which allowed the business to add new projects to the gallery, manage and respond to estimate requests and review and approve testimonials provided through the submission form.
In early 2018 I recreated this website on the WordPress platform, a link to that project is available in the portfolio as well.
Click on images in the below gallery to enlarge.
I Want to Work with You!
Free Consultation
No Obligation Quotes
Professional 1-on-1 Service
Solutions for Businesses Big and Small
Over 10 Years Experience in the IT Industry
I Collaborate on Personal Projects Too!
Contact Me Today!