Web Development
Perry's Painting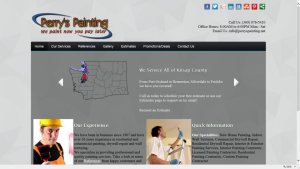 In 2013 I created a small business website for a local painting company in Bremerton, WA called Perry's Painting. The owner approached me after paying a web marketing company for several years for a website and online marketing campaign which was not producing results to his liking. For this project I helped the owner by creating a simple, custom website, integrating a client testimonials page which was managed by a custom admin dashboard, an estimate request page allowing a user to provide the details of a job for a preliminary estimate, a contact page with form email functions and pages highlighting the services, available promotions and a gallary of past work.
I developed this site using HTML and CSS styling, utilizing the bootstrap framework and powered by the .Net platform to facilitate testimonial and gallary functions.
I created a custom administrative dashboard for the website which allowed the owner to add new promotions to the website, manage the gallary of previous work, manually add or approve web submitted client testimonials, and manage estimate requests which were submitted online.
Click on images in the below gallary to enlarge.
I Want to Work with You!
Free Consultation
No Obligation Quotes
Professional 1-on-1 Service
Solutions for Businesses Big and Small
Over 10 Years Experience in the IT Industry
I Collaborate on Personal Projects Too!
Contact Me Today!