Web Development
Puget Rental Owners Association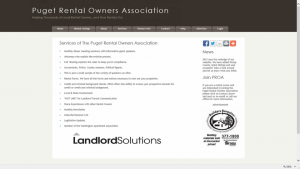 In 2011 I was approached by my then boss about creating a new website for the Puget Rental Owners Association, of which he was the president and member of the board of directors. The association was looking for a new website which added value to their members while also providing community resources for rental tenants. This was the first website I created in a professional manner and launched my career in information technology. I was in the middle of completing my associates degree in information technology when I accepted this project.
I created this website using a template that was selected by the association and modifying and customizing it to their needs. The website featured many information pages, a rental listing service, form to email contact, managed advertising features and a members only area. 
The members only area was developed using the .Net platform with C# and MS SQL database support, which provided password protected access to member only materials, calendar of events, resource downloads, and a rental listing service which allowed members to list their available properties on the public facing website. The custom administrative dashboard provided functions for managing members, managing events, managing advertising on the website and manage the monthly newsletter. 
On the public side of the website provided resources for renters, including landlord tenant laws, information about renting, community resource links and a rental listing system allowing users to search available rental properties from members of the association. 
Click on images in the below gallery to enlarge.
I Want to Work with You!
Free Consultation
No Obligation Quotes
Professional 1-on-1 Service
Solutions for Businesses Big and Small
Over 10 Years Experience in the IT Industry
I Collaborate on Personal Projects Too!
Contact Me Today!